See what our customers have to say....
Patti and Roman are passionate artists with huge hearts and masterful skill! They created a gorgeous, one-of-a-kind Essence Bead for me as a memorial for my beloved Maine Coon Cat, Reagan. The color is a lovely, custom shade of sun-drenched orange, reminiscent of my boy's red hair in the sunshine of the Golden Hour. It is the perfect size and is the centerpiece of my Pandora bangle. I communicated with Patti via email and she was always extremely professional, kind, and sensitive to my requests. I highly recommend Locked In Art for your treasured memorial. Their workmanship and artistry are superb; their caring and compassion are exemplary! I have had my treasure for several weeks now, and I wear it every day. It is so comforting to have a part of my boy's, "stardust" with me wherever I go. ~ Melissa Scott
Hi Patti, Thank you so much for a great experience and a beautiful piece of jewelry. Your presentation is perfect for such an emotional order. From the tissue paper to the pillow, the entire unwrapping was lovely and underscored the experience of working with you. The bracelet is lovely and tasteful, the engraving on both the box and the back of the bracelet looked clear and readable. Thank you so much for offering a tasteful means for those of who have lost a loved one a means to honor and remember them. I will certainly sing your praises to others in the future. With many thanks and gratitude. ~ Mary Freiberg
Hi...I ordered nine pieces of jewelry from you a couple years ago. I should have reached out back then. The entire process was so painless, and done with such care and respect. I was rather hesitant to order online, but EVERYBODY needs to do business with you. My granddaughter says she puts her little bead in her mouth when she needs Papa. I wear mine every day. I am so impressed!!! Thank you for restoring my faith in humanity. ~ Yvonne B.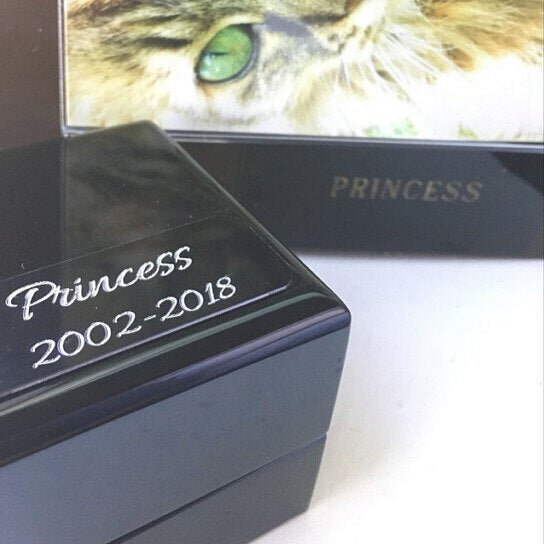 Thank you so much Patti and Roman for creating such a beautiful piece of art. I cannot imagine a better way to preserve the memory of my beloved Princess. It is comforting knowing that I can have her by my side again and for that I thank you. The engraved memorial box and the glass bead both exceeded expectations. If anyone is having trouble deciding the best way to preserve the memory of their loved one I would highly recommend Patti and Roman. The glass they use is beautiful, they are both great to work with, and I can tell that as long as I treat it with care it will last a lifetime. Best wishes, Kala
I can honesty say my beads are so beautiful and the way they are presented is stunning, the knowing my love will be with me everywhere is priceless ,, thank you so so much xx ~ Michelle Wheatley
They do fantastic work. Patti was so sweet and kind, and so amazing in honoring our loved one. ~ Mrs. Karen Peterson
This purchase is everything I expected. I cannot be any more pleased. It is exactly what I ordered. I wear it everyday. Communication with the shop owners was easy and their responses were quick and informative. I wouldn't hesitate to order from them again. This pendant will be treasured for a lifetime. ~ Mary Hanlon
If I could only give more stars! I am super happy with my ring. Patti was so easy to work with, and went out of her way to get my ring to me by a specific day, way earlier than their typical production time.

It's very comforting to be able to keep a bit of the essence of the one you loved with you in such a beautiful way. The quality of the ring is amazing. ~ Christie
Super professional, & super accommodating. Patti and Roman are amazing to work with. The beads are so gorgeous that I literally cried when I opened the package and laid my eyes on them. Quality is unsurpassed. ~ Christine Emery
I am so very thankful to have this special piece of my mom with me wherever I go. I wear it nearly everyday. The care that LockedInArt took to ensure a quality piece, meant so much to me. I truly love my necklace... perfection! This is a hard time in my life, but this piece brings me some comfort. Thank you so much. ~Chrystal Lee
In August, I lost my beloved cat Sadie and wanted to keep a piece of her with me. I found Patty and Roman's work here and fell in love. After starting the process, I lost my other beloved kitty Charlotte. They went above and beyond by waiting to start until I could get them Charlotte's ashes as well. Although my only contact was via email with Patty, it was apparent that she truly cared about what she was doing and knew how much it meant to me! I can not say enough how much I love my necklace and how wonderful they were to work with. I truly cannot thank you guys enough for helping me to keep those sweet girls close to my heart... always! ~ EM Kreft
My bead arrived today and I can't thank you enough. It's beautiful! It fits perfectly on my necklace and my bracelet. From the bottom of my heart THANK YOU! ~ J.j. Truell-Maples
I can't say enough nice things about my experience. Patti was very sweet answering ALL my questions( I had a ton). Losing my dad was honestly the hardest thing I think I have ever went through so having this necklace makes me feel a little better. Able to have part of him close means alot. Thanks again Y'all are AMAZING!!!! ~ S. Johnson
Thank you so much for your amazing work! I've been waiting for this day to carry my father with me! Absolutely LOVE it and the tiny tear drops left over ~ Lara Barr
Locked in Art is the most kind hearted, professional, warm and caring people. From the beginning of the process through the end they stayed in touch. They made the whole process so easy. I was worried that I would not be able to collect my babies ashes, but no worries, they provide the sweetest, most dignified little kit for that, and made the process as painless as possible, including mailing back to them. Highly recommend. They are a God send. I will have my babies around my neck and close to my heart for eternity. Thank you. ~ Andrea Ward
I wish there were more than 5 stars....as this shop would get a 10. I ordered 2 necklaces in 2 different colors. Both pieces are beautiful. The friendliness and kindness you both show to your customers is truly amazing. The extra stones you sent, the cleaning cloth, as well as the engraved box is just amazing. Even the way everything was wrapped in the box just shows how much time and care you put in to making sure everything was perfect. Thank you from the bottom of my heart. ~ Kristin
My Darla's memorial came today. I love it, and could not have had a better experience than I had with your company. Thank you so very much for what you do :) ~ Maggie Bowen
Its slightly expensive but worth it. They made my whole experience perfect. They were very personal... wanted a story and pictures so they got to know my mom while making the bracelet. ~ Melody Slayman
Love everything about them. Bought 4 for myself, sisters and daughter. Service and communication second to none. Very special jewellery and even more special people. Thank you ~ Elaine Moffat
Everything about working with this company was as AMAZING experience. The care they take surpasses most companies I deal with these days. Would MOST DEFINITELY recommend them to everyone. ~ Paige Muniz
It's too bad that there are only 5 stars. This piece deserves so much more. Patti & Roman were professional and compassionate. Worked with me through a special order without missing a beat. They made a difficult time just a little easier. Thank you!!! ~ K. Metke
It is just as pictured. I picked the black color for our black lab we had to put to sleep. He was 12 and our best friend. It's a nice comfort to have a piece of him with me and was beautifully made. Excellent quality. I'm adding charms to the necklace. ~ H. Ziegle
收到兒子的骨灰玻璃珠項鍊了
跟大貓一模一樣的顏色
真的好像你一直還在身邊
媽咪想你了QQ ~ linxi0911
This is wonderful item and I would use them again. They stayed in contact through the whole process. ~ Shawn Norris
This came out beautifully. I was hesitant to send a small amount of the ashes through the mail, but they returned what they did not use and even the little drippings of glass used to make the bead which had contained pieces of ash. Mine came out perfect. I hung it from my car's rear view mirror so that I can be reminded of my pup often. Very courteous service and quick turnaround. ~ Kajealba
The beads came out perfectly. Service was very professional. We will always treasure these. ~ Gabriella Booth
The bead is great, and allows me to have my dog go with me wherever I go. The best part of this was the understanding and helpfulness of Patti. It's tough dealing with the loss of my dog, and Patti was considerate, understanding, and very helpful. ~ Jeff
Absolutely perfect. The seller is very nice, walks you through each step of the process, and includes package tracking. The ash kit arrived within a few days after i placed my order and it made collecting my dog's ashes easy and comfortable. The bead arrived quickly and is beautiful! i especially love that i had the option to have my dog's name engraved on the silver of the bead. It is something i will wear every day. I know it will bring me comfort knowing i have a piece of my dog close to me. Thank you so much! I highly recommend this shop! ~Kaitlyn Humphries
Words can not really express what I need or should say. But, thank you. Very professional and beautifully made. Knowing my mother is with me each and everyday helps give me peace. Thank you for making a connection. ~ Hertha
Once again, I love this glass bead. Knowing mom is with me every step of the way brings comfort to me. Thank you for your creation(s). Just heart warming and beautiful. ~ Hertha
Patti made me the most beautiful memorial bead from my special kitty, Willy. Patti made sure I got it before Christmas, as it was a gift from my husband. I am so absolutely amazed with how beautiful and perfect the bead is! I miss my cat so much, he was little buddy..now when I see my bead I feel like a little part of him will always physically with me. Thank you so much Patti..it means the world to me. ~ Jennifer Briscuco
I received my beautiful tribute to my dog Lucy today. It it truly a work of art and a very high quality piece of jewelry. I love the beautiful presentation and wrapping of both of the collection container for the ashes and the final piece. Thank you so much! I feel so impersonal leaving just this feedback for you, because what you have made for me is so personal and precious. ~ Karen Beeson
This bead really touched my heart. It contains my late dog, Bailey's, ashes and they were so kind and sensitive about how they made the bead. I appreciate the little touches that made this transaction so easy. What a great tribute - thank you so much! ~ Jennifer Healy